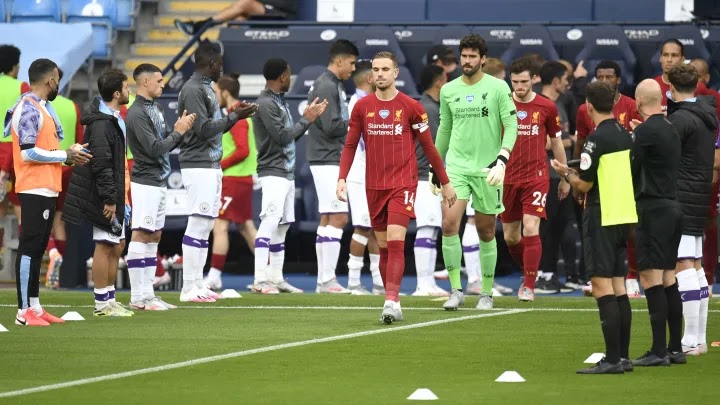 Liverpool fans have been left furious with Manchester City's 'disrespectful' guard of honour before their match on Thursday night.
Liverpool were crowned Premier League champions for the first time last week after City's defeat at Chelsea saw the Anfield club end their 30-year wait for a league title.
Manchester City gave Liverpool guard of honour in the Premier League as Pep Guardiola's men welcome the newly-crowned champions return to action for the first time since clinching their historic title
With all the Citizens' players maintaining social distancing protocols, Some City players stopped clapping before every Liverpool player had even left the tunnel and then left the lines before the entire team had walked through.
Bernardo Silva was spotted refusing to take part in the traditional guard of honour as he simply stood and sipped on his drink while his team-mates clapped for Liverpool as they arrived at the Etihad Stadium as the new Premier League champion.
— ⚡️🇧🇼 (@Priceless_Silva) July 2, 2020
"Mancini would've absolutely loved Bernardo man", claimed one fan.
while another asked, "As in, imagine if Bernado had clapped, you wouldn't hear the end of it?"
Another tweet said:"Really HATED watching our team doing that. But fair play they gritted their teeth and performed like true professionals. Theb whipped the scousers botties… GET IN."

This has caused anger amongst some Liverpool supporters who believe their team hasn't been shown the respect they deserve.
Social distancing means we get the longest guard of honour in history. Ahhhhhh

— Tommy (@TLister77) July 2, 2020
Saltiest guard of honour EVRR LMAOOOOOOOOOO

— CHAMP19NS (@Kashaveli_) July 2, 2020
I wondered what it would be like when Man City gave us the Guard of Honour, but it was exactly as I thought it would be, they just clapped us out.

— Boring James Milner (@BoringMilner) July 2, 2020
Yes indeed. Some stayed at least, but it was a pathetic guard of honour.

— Róisín Grasby (@RoisinGrasby) July 2, 2020
That was the WORST Guard of Honour I've ever seen!!!!

— Winny Da Bish (@MximYesess) July 2, 2020
Have you ever seen a more disrespectful so called guard of HONOUR. Respect is something that clearly doesn't exist

@City

— "Red" H* (@hendie1969) July 2, 2020
Follow Us on Social media: